My Little Pony: A New Generation is a movie released by Netflix and is a co-production between Entertainment One and Boulder Media. It was released worldwide on Netflix on September 24, 2021.
Although the film's planned worldwide theatrical release was cancelled, the film is released theatrically in addition to being released on Netflix in Hong Kong, Macau and South Korea on September 22; in Russia on September 23; and in Singapore and Taiwan on September 24. However, a video showed that Singapore's Golden Village theaters showing the film on September 19.
Synopsis
Many years after the events of My Little Pony: Friendship Is Magic, Twilight Sparkle's teachings on friendship and harmony have been replaced with paranoia and mistrust, and the three pony kinds – Earth ponies, pegasi and unicorns – live separated from one another.[1] In the Earth pony town of Maretime Bay, Argyle Starshine tells stories of Twilight Sparkle and her friends to his young daughter Sunny Starscout, who inherits his dream of reuniting the three pony kinds.[2]
One day, after Sunny has grown up, a lost unicorn named Izzy Moonbow wanders into Maretime Bay. The town's residents react in panic,[1] believing that Izzy is a hostile invader. Sunny, finally given an opportunity to make friends with a unicorn, shelters Izzy in her home, and Izzy reveals to her that unicorns no longer have magic powers following their sudden disappearance. Together, they embark on an adventure and travel across Equestria on a mission to restore magic to the land.[2]
Plot
The movie begins as Sunny is imagining one of Twilight and her friends' adventures, only for Sprout to intervene. Sunny then asks Argyle if they can leave, in which they proceed to leave. Argyle then plays Unicorn with Sunny, while Sunny is a Pegasus. Then, they send a letter of friendship to the Unicorns and Pegasi. Argyle then tells the story of Twilight again. Afterwards, Sunny goes to bed.
A few years afterwards, now grown-up Sunny starts her day by roller skating into town with her smoothie cart. Then, she tries to enter the Canterlogic factory, but Hitch stops her. Then, Sunny goes inside after telling she won't scare anyone. Inside of the factory, Phyllis presents new gadgets to help the earth ponies. Then, she presents one last thing, and Sunny jumps up, saying that fear is not their friend. This results in Sunny being apart of the gadget. She tries to convince the fillies the exact same thing, but Phyllis doesn't want her to.
Hitch then tells Sunny how many laws she broke and walks away sad. Then, a unicorn named Izzy comes into Maretime Bay, scaring all of the residents, and then a trap comes up as Hitch and Sprout are trying to capture her. Every attempt failed, but when Sunny and Izzy got to the movie theater, the trap caught Izzy, but Sunny released her. Sunny and Izzy runs to Sunny's lighthouse for shelter.
Cast
Tara Strong as Twilight Sparkle
Tabitha St. Germain as Rarity
Andrea Libman as Fluttershy, Pinkie Pie
Ashleigh Ball as Applejack, Rainbow Dash
Brooke Goldner as Sweets
Gillian Berrow as Zoom Zephyrwing
Heather Langenkamp Anderson as Dazzle Feather, Mayflower, Confused Mom, Additional Voices
Will Friedle as Skye Silver, Commercial VO, Glitter Cupcake, Comet Tail, Additional Voices
Robert McCollum as Sparkle Chaser, Rob the Pony, Wings
Laura Bailey as Kid Earth Pony 1, Pippsqueak 1
Kari Wahlgren as Pegasus Fan
Tony Matthews as Balloon Pony, Unicorn Father, Worker Pony 1
Lisa Linder Silver as Beatnik Unicorn, Pegasus Concert Goer, Pippsqueak 2, Tram Driver, Additional Voices
Thomas Rickert as Announcer Pony
Inbal Elazari as Bunnies
Maggie Cullen as Unicorn Kid
Soundtrack
Songs
There will be at least seven songs on the film's soundtrack. The composers for It's Alright are not known yet; Glowing Up was composed by Jenna Andrews, Bryan Fryzel and Taylor Upsahl; and the other songs were composed by Alan Schmuckler and Michael Mahler.
Score
The movie's score was composed by Heitor Pereira. Emily Louise Joseph also co-composed part of the score with Pereira.
History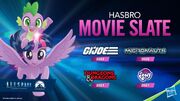 News of the movie first broke with the late 2017 leaks, which had planned the end of FiM and changes for characters, among other things.
The 2019 New York Toy Fair in February had an investor call which revealed the next 2 years of movies released by Hasbro as a partnership with Paramount. These included a GI Joe movie, a Micronauts movie, a Dungeons&Dragons movie, and a My Little Pony movie.
On November 7, 2019, The Twitter account BoxOfficePro (@BoxOffice) reported that Paramount will be releasing a My Little Pony Movie on September 24, 2021.[3]
On August 28, 2020, Liscencing.biz reported that "Hasbro hopes that audiences will be swept away by the new cast of ponies and the incredible adventure that awaits them"[4]
On October 6, 2020, The Festival of Licensing event featured a live panel from Hasbro. Here it was announced that the "Old Cast" (presumed to be the main cast from Friendship is Magic) will be returning, but most of the focus will be on the new cast of characters. The September 24th release date was confirmed once again.[5]
Although presumed to have been CGI from the leaks, a Hasbro earnings conference on October 26, 2020 confirmed that the movie will be CGI. [6]
On January 29, 2021, a Kidscreen article gave us much more information of the movie. The main character will be an activist trying to make their home a better place. Equestria would carry over from the Generation 4 media canon, but the movie will take place much later in time. There will be nods and easter eggs to previous generations of MLP. [7]
On February 12, 2021, a Variety article reported that the movie would no longer be distributed theatrically by Paramount, but would instead be headed to Netflix. This deconfirmed the previous September release date, but said the movie could be expected in late 2021. Entertainment One would still retain distribution rights in China. The article also revealed the directors and producers of the film[8].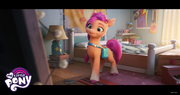 On February 24th, 2021, ETOnline published the first screenshot of the film alongside a more in-depth summary. The article provided first official confirmation of the main character's design and name, proving the character design leak and potential name leak to be true.[9]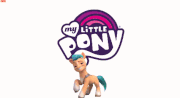 On February 25, 2021, the official My Little Pony Facebook page posted a screenshot of the film and confirmed Izzy Moonbow's full name[10]. The same day, we also had an investor event held by Hasbro which confirmed another character, Hitch Trailblazer (whose name was not revealed at the time), and showed some promotional animation for the film. The event also confirmed that the release date would still be around September 2021.
On February 26, 2021, the official My Little Pony Instagram page posted promotional material that featured a new animation of Sunny and announced Hitch's name[11].
Trademarks filed on February 25, 2021, revealed full names for Pipp Petals[12] and Zipp Storm,[13] as well as "Princess Petals", an alternate name for Pipp.[14]
On April 9, 2021, the official My Little Pony Instagram page posted promotional material with reveals of Zipp Storm and Pipp Petals, along with the information that the two are both royalty and sisters[15].
On April 16, 2021, the official My Little Pony Facebook and Instagram announced that Sunny, Izzy, Pipp, Zipp, and Hitch would be the "Mane 5" for the movie[16].
On May 18, 2021, the official Malaysia Netflix Twitter account posted a list of upcoming films. Under the "Family" section, the title for the movie was shown to be "My Little Pony: Pony Tale"[17]. This ended up not sticking.
Sometime before May 28, 2021, the Boulder Media website revealed the title of the film to be "My Little Pony: A New Generation".[18]
On June 30, 2021, the cast for the movie was announced on multiple different outlets, giving us voices for the mane 5,[19] as well as names and voices for Alphabittle, Argyle Starshine, Phyllis, Queen Haven, and Sprout.[20]
On August 9, 2021, the official My Little Pony Facebook page announced that the trailer for the movie will be released on August 12.[21]
On August 11, 2021, the official My Little Pony Facebook page posted more screenshots for the film.[22]
On August 12, 2021, the official trailer for the film was released on Netflix's YouTube channel (and their international channels as well)[23]
More advertisements for the film were promoted through platforms such as Youtube and mobile apps around September 5, 2021.
References