Jurassic World: Dominion Dominates Fandom Wikis - The Loop
Play Sound
My Little Pony: A New Generation is a movie released by Netflix and is a co-production between Entertainment One and Boulder Media. It was released worldwide on Netflix on September 24, 2021.
Although the film's planned worldwide theatrical release was cancelled, the film was released theatrically (in addition to being released on Netflix) in Singapore on September 19, Hong Kong, Macau and South Korea on September 22, Russia on September 23, and in Taiwan on September 24.
The film was released on VOD on April 26, 2022 by Momentum Pictures, a subsidary of Entertainment One.
Synopsis
Many years after the events of My Little Pony: Friendship Is Magic, Twilight Sparkle's teachings on friendship and harmony have been replaced with paranoia and mistrust, and the three pony kinds – Earth ponies, pegasi and unicorns – live separated from one another.[1] In the Earth pony town of Maretime Bay, Argyle Starshine tells stories of Twilight Sparkle and her friends to his young daughter Sunny Starscout, who inherits his dream of reuniting the three pony kinds.[2]
One day, after Sunny has grown up, a lost unicorn named Izzy Moonbow wanders into Maretime Bay. The town's residents react in panic,[1] believing that Izzy is a hostile invader. Sunny, finally given an opportunity to make friends with a unicorn, shelters Izzy in her home, and Izzy reveals to her that unicorns no longer have magic powers following their sudden disappearance. Together, they embark on an adventure and travel across Equestria on a mission to restore magic to the land.[2]
Plot
In the earth pony town of Maretime Bay, Argyle Starshine teaches his daughter Sunny Starscout about tales of old Equestria when earth ponies, pegasi and unicorns lived in harmony. Although most earth ponies dismiss these ideas as myths and now live in fear of the other races, Sunny hopes that all races can make amends and live in harmony.
Years later, Sunny continuously tries to change the minds of the other earth ponies, disrupting a showcase of anti-pegasi and unicorn technology by factory owner Phyllis Cloverleaf. Hitch Trailblazer, Sunny's childhood friend and sheriff of Maretime Bay, pulls her away and prepares to send her back home with the warning that she is jeopardizing their friendship with her activities. Suddenly, a unicorn named Izzy Moonbow wanders into the town. While most of the earth ponies flee, Sunny befriends Izzy and quickly takes her to her home to hide from Hitch and his deputy Sprout, Phyllis' son. Learning from Izzy that unicorns have lost their magic and that the pegasi may be to blame, Sunny travels with her to the latter race's home in the city of Zephyr Heights in order to ask for their help. The two elude Hitch and flee town, and Hitch leaves Sprout in charge while he pursues them. Sprout names himself sheriff and eventually becomes a dictator-like leader, turning the residents of Maretime Bay into a hostile mob and commandeering Phyllis' factory to construct a war machine.
Sunny and Izzy are caught in Zephyr Heights and taken to meet Queen Haven and her two daughters, Pipp Petals and Zipp Storm; all seemingly the only pegasi who can fly. When Sunny starts asking about magic, Haven has them imprisoned in the castle dungeon. Zipp secretly visits them there and tells them that the pegasi have also lost their magic and cannot fly; the royal family uses wires to give the illusion of flight. She helps them escape and takes them to an abandoned transit station that Sunny realizes was used by all pony races in the past. Sunny finds a set of stained glass windows depicting two crystals – one of which is set in Haven's crown – that may fit together and bring back the magic. The three concoct a plan to steal the crown during Pipp's performance that night. Hitch's arrival triggers a series of mishaps that reveal the royals' inability to fly; Haven is arrested, and the sisters are forced to flee the city with Sunny, Hitch, and Izzy. Hitch overcomes his own prejudices and offers to help Sunny in her effort to reunite the pony races.
Izzy escorts the group to her home in the village of Bridlewood and disguises them as unicorns before leading them to Alphabittle, who holds the unicorn crystal. Sunny wins it from him in a dance competition, but loses her disguise as she celebrates. As the group flees with the two crystals, they come across Haven, who has also escaped. Sunny and Izzy try to put the two crystals together, but they have no effect. Dejected, Sunny gives back the crystals and returns to Maretime Bay with Hitch.
While packing up her childhood toys, Sunny finds a third crystal intended to join with the other two, built into a lamp Argyle had made for her. As she races to tell Hitch, they discover that Sprout has turned the entire town to his side and is piloting his war machine to attack the other pony races. Sunny and Hitch rush back to her home as Izzy, Pipp, Zipp, Haven, and Alphabittle arrive. Gathering the crystals, Sunny, Izzy, and Pipp try to put them together while Hitch and Zipp hold off Sprout's machine. Phyllis orders Sprout to stop, but he refuses and crashes into Sunny's home, destroying it and the frame in which the crystals must be set. Phyllis, Haven, Alphabittle, Sprout and Sunny's friends put aside their differences and come together to comfort her amid the rubble. In response, the crystals activate and lift Sunny into the air, temporarily transforming her into an alicorn and restoring magic across the land. Sunny and her friends celebrate as the ponies of all three races cooperate to fix the damage done by Sprout and a new era of peace begins.
Cast
Tara Strong as Twilight Sparkle
Tabitha St. Germain as Rarity
Andrea Libman as Fluttershy, Pinkie Pie
Ashleigh Ball as Applejack, Rainbow Dash
Brooke Goldner as Sweets
Gillian Berrow as Zoom Zephyrwing
Heather Langenkamp Anderson as Dazzle Feather, Mayflower, Confused Mom, Additional Voices
Will Friedle as Skye Silver, Commercial VO, Glitter Cupcake, Comet Tail, Additional Voices
Robert McCollum as Sparkle Chaser, Rob the Pony, Wings
Laura Bailey as Kid Earth Pony 1, Pippsqueak 1
Kari Wahlgren as Pegasus Fan
Tony Matthews as Balloon Pony, Unicorn Father, Worker Pony 1
Lisa Linder Silver as Beatnik Unicorn, Pegasus Concert Goer, Pippsqueak 2, Tram Driver, Additional Voices
Thomas Rickert as Announcer Pony
Inbal Elazari as Bunnies
Maggie Cullen as Unicorn Kid
Soundtrack
Songs
There are seven songs on the film's soundtrack. The composers for It's Alright are not known yet; Glowing Up was composed by Jenna Andrews, Bryan Fryzel and Taylor Upsahl; and the other songs were composed by Alan Schmuckler and Michael Mahler.
Score
The movie's score was composed by Heitor Pereira. Emily Louise Joseph also co-composed part of the score with Pereira.
History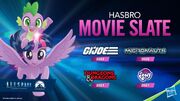 News of the movie first broke with the late 2017 leaks, which had planned the end of FiM and changes for characters, among other things.
The 2019 New York Toy Fair in February had an investor call which revealed the next 2 years of movies released by Hasbro as a partnership with Paramount. These included a GI Joe movie, a Micronauts movie, a Dungeons&Dragons movie, and a My Little Pony movie.
On November 7, 2019, The Twitter account BoxOfficePro (@BoxOffice) reported that Paramount will be releasing a My Little Pony Movie on September 24, 2021.[3]
On August 28, 2020, Liscencing.biz reported that "Hasbro hopes that audiences will be swept away by the new cast of ponies and the incredible adventure that awaits them"[4]
On October 6, 2020, The Festival of Licensing event featured a live panel from Hasbro. Here it was announced that the "Old Cast" (presumed to be the main cast from Friendship is Magic) will be returning, but most of the focus will be on the new cast of characters. The September 24th release date was confirmed once again.[5]
Although presumed to have been CGI from the leaks, a Hasbro earnings conference on October 26, 2020 confirmed that the movie will be CGI. [6]
On January 29, 2021, a Kidscreen article gave us much more information of the movie. The main character will be an activist trying to make their home a better place. Equestria would carry over from the Generation 4 media canon, but the movie will take place much later in time. There will be nods and easter eggs to previous generations of MLP. [7]
On February 12, 2021, a Variety article reported that the movie would no longer be distributed theatrically by Paramount, but would instead be headed to Netflix. This deconfirmed the previous September release date, but said the movie could be expected in late 2021. Entertainment One would still retain distribution rights in China. The article also revealed the directors and producers of the film[8].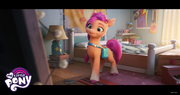 On February 24th, 2021, ETOnline published the first screenshot of the film alongside a more in-depth summary. The article provided first official confirmation of the main character's design and name, proving the character design leak and potential name leak to be true.[9]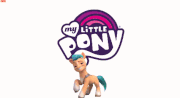 On February 25, 2021, the official My Little Pony Facebook page posted a screenshot of the film and confirmed Izzy Moonbow's full name[10]. The same day, we also had an investor event held by Hasbro which confirmed another character, Hitch Trailblazer (whose name was not revealed at the time), and showed some promotional animation for the film. The event also confirmed that the release date would still be around September 2021.
On February 26, 2021, the official My Little Pony Instagram page posted promotional material that featured a new animation of Sunny and announced Hitch's name[11].
Trademarks filed on February 25, 2021, revealed full names for Pipp Petals[12] and Zipp Storm,[13] as well as "Princess Petals", an alternate name for Pipp.[14]
On April 9, 2021, the official My Little Pony Instagram page posted promotional material with reveals of Zipp Storm and Pipp Petals, along with the information that the two are both royalty and sisters[15].
On April 16, 2021, the official My Little Pony Facebook and Instagram announced that Sunny, Izzy, Pipp, Zipp, and Hitch would be the "Mane 5" for the movie[16].
On May 18, 2021, the official Malaysia Netflix Twitter account posted a list of upcoming films. Under the "Family" section, the title for the movie was shown to be "My Little Pony: Pony Tale"[17]. This ended up not sticking.
Sometime before May 28, 2021, the Boulder Media website revealed the title of the film to be "My Little Pony: A New Generation".[18]
On June 30, 2021, the cast for the movie was announced on multiple different outlets, giving us voices for the mane 5,[19] as well as names and voices for Alphabittle, Argyle Starshine, Phyllis, Queen Haven, and Sprout.[20]
On August 9, 2021, the official My Little Pony Facebook page announced that the trailer for the movie will be released on August 12.[21]
On August 11, 2021, the official My Little Pony Facebook page posted more screenshots for the film.[22]
On August 12, 2021, the official trailer for the film was released on Netflix's YouTube channel (and their international channels as well)[23]
More advertisements for the film were promoted through platforms such as Youtube and mobile apps around September 5, 2021.
The film was released on September 24, 2021 on Netflix. It was the #4 movie on Netflix as of October 11, 2021[24].
References