The currently unnamed movie will be released by Netflix and is a co-production between Entertainment One and Boulder Media. The release date is currently unknown but will reportedly be in September 2021. The animation will be CGI.
Summary
In the new movie, the pony world of Equestria has lost its magic. Friendship and Harmony have been replaced by paranoia and mistrust, and Ponies now live separated by species. Sunny - a feisty and idealistic young Earth Pony - is convinced there's still hope for this divided world, but her slightly misguided and often hilarious efforts to change hearts and minds have led to her being branded a misfit. When Sunny befriends a lost Unicorn named Izzy, who wanders innocently into the Earth Pony town of Maretime Bay, the town has had enough. Izzy and Sunny must embark on an epic adventure that will include a daring jewel heist, outrageous conspiracy theories, elaborate musical numbers, and the world's cutest flying Pomeranian. Their adventures will take them to faraway lands and force them to challenge the status quo by facing their fears and making new friends out of old enemies. The world Sunny has dreamed of her entire life could finally become a reality as Sunny and her newfound friends fight to prove that even little ponies can make a big difference.
History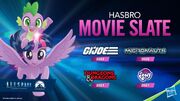 News of the movie first broke with the late 2017 leaks, which had planned the end of FiM and changes for characters, among other things.
The 2019 New York Toy Fair in February had an investor call which revealed the next 2 years of movies released by Hasbro as a partnership with Paramount. These included a GI Joe movie, a Micronauts movie, a Dungeons&Dragons movie, and a My Little Pony movie.
On November 7th, 2019, The Twitter account BoxOfficePro (@BoxOffice) reported that Paramount will be releasing a My Little Pony Movie on September 24th, 2021[1].
On August 28th, 2020, Liscencing.biz reported that "Hasbro hopes that audiences will be swept away by the new cast of ponies and the incredible adventure that awaits them"[2]
On October 6th, 2020, The Festival of Licensing event featured a live panel from Hasbro. Here it was announced that the "Old Cast" (presumed to be the main cast from Friendship is Magic) will be returning, but most of the focus will be on the new cast of characters. The September 24th release date was confirmed once again.[3]
Although presumed to have been CGI from the leaks, a Hasbro earnings conference on October 26th, 2020 confirmed that the movie will be CGI. [4]
On January 29th, 2021, a Kidscreen article gave us much more information of the movie. The main character will be an activist trying to make their home a better place. Equestria would carry over from the Generation 4 media canon, but the movie will take place much later in time. There will be nods and easter eggs to previous generations of MLP. [5]
On February 12th, 2021, a Variety article reported that the movie would no longer be distributed theatrically by Paramount, but would instead be headed to Netflix. This deconfirmed the previous September release date, but said the movie could be expected in late 2021. Entertainment One would still retain distribution rights in China. The article also revealed the directors and producers of the film[6].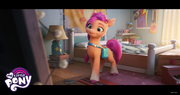 On February 24th, 2021, ETOnline published the first screenshot of the film alongside a more in-depth summary. The article provided first official confirmation of the main character's design and name, proving the character design leak and potential name leak to be true.[7]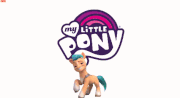 On February 25th, 2021, the official My Little Pony Facebook page posted a screenshot of the film and confirmed Izzy Moonbow's full name[8]. The same day, we also had an investor event held by Hasbro which confirmed another character, Hitch Trailblazer (whose name was not revealed at the time), and showed some promotional animation for the film. The event also confirmed that the release date would still be around September 2021.
On February 26th, 2021, the official My Little Pony Instagram page posted promotional material that featured a new animation of Sunny and announced Hitch's name[9].
Trademarks filed on February 25th, 2021, give us full names for Pipp Petals[10] and Zipp Storm[11], as well as a possibly related one for Princess Petals[12].
On April 9th, 2021, the official My Little Pony Instagram page posted promotional material with reveals of Zipp Storm and Pipp Petals, along with the information that the two are both royalty and sisters[13].
On April 16th, 2021, the official My Little Pony Facebook and Instagram announced that Sunny, Izzy, Pipp, Zipp, and Hitch are going to be the "Mane 5" for the movie[14].
References
Community content is available under
CC-BY-SA
unless otherwise noted.